About Anne
Anne Welsh is an internationally recognised author, entrepreneur and philanthropist. She was born in Nigeria and emigrated to the United Kingdom when she was very young. She was diagnosed with Sickle Cell anaemia at the age of three, and, after returning to live in her country of birth while still a child, faced many of the problems that come with living with a life-threatening disease in a developing country.
Since returning to the UK in her late teens, and with the support of her family, Anne created her own path to happiness through her academic studies and her career. After completing a degree in Accounting and Finance, Anne went on to achieve an MSc in Investment Management before starting her career in investment banking with Lehman Brothers. She broke barriers by establishing workplace practises for ethnic minorities and people with disability. She now runs her own consultancy firm based in London and is an expert in bringing business opportunities to investors around the globe.
Anne is a tireless advocate for sickle cell disease and her memoir, Pain-less, was borne of her determination to raise awareness about the impact invisible diseases such as Sickle Cell can have on individuals, and also to give support and advice to other sufferers and their families. Having frequently battled with depression, Anne is all too aware of the difficulties faced by sufferers of life-threatening illnesses. By writing this book, she hopes to help others improve their mental and physical wellbeing and enable them to achieve a joyful and fulfilling life.
She has appeared on many radio and television spots, such as the BBC and London Live, and in front of decision makers and parliamentary political leaders in the UK or in countries around the world where sickle cell is a serious health issue.
Anne is married with two children – something she once thought would never be possible – two stepchildren and lives in London.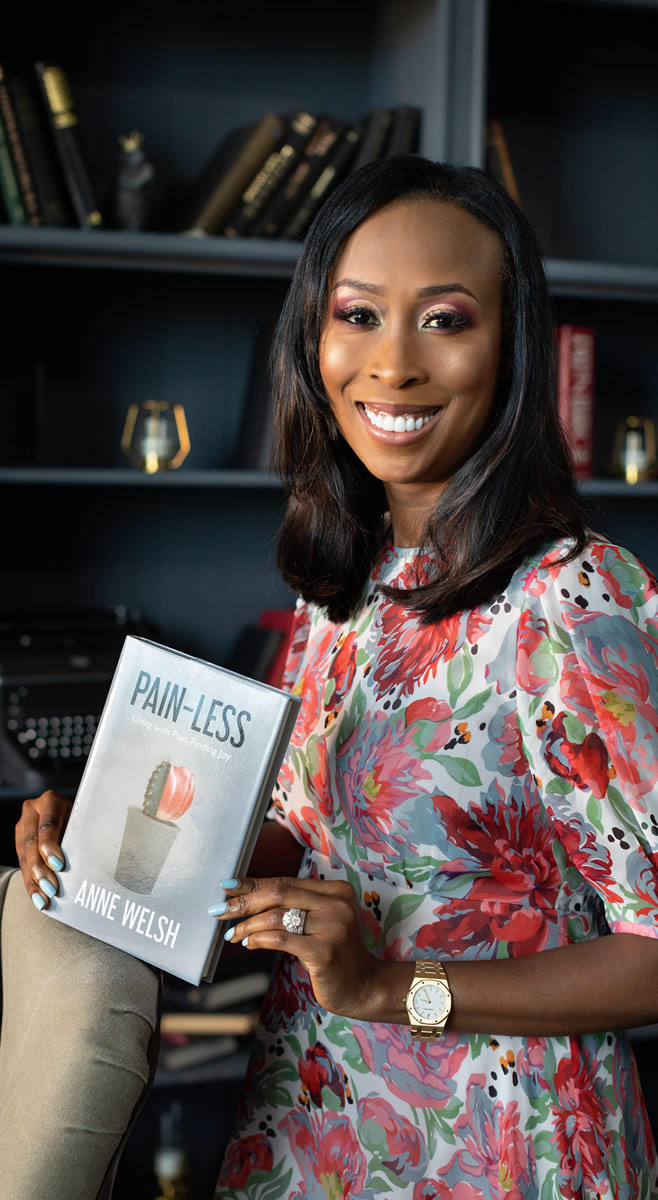 Pain-Less
Living with Pain, Finding Joy
Anne Welsh's memoir about life with sickle cell anaemia published in June 2019.
Order your copy now.
ISBN: 9781781329047
Published: June 2019
Publisher: SilverWood Books
Hardback
216 x 140mm (246 pages)